---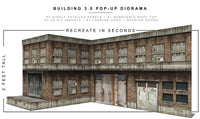 Extreme Sets - Building 3.0 - 1/12 Scale Pop-Up Diorama
Extreme Sets
PRODUCT DESCRIPTION
Get ready to touch the sky, as Extreme-Sets presents The Building 3.0 Pop Up! This massive Pop Up is sure to bring the action figure battles on rooftops to a whole new level. And if rooftops aren't your thing, the ground floor is a stunning loading dock area that is full of action and drama for any toy photographer.
The Building 3.0 Pop Up stands an imposing two feet tall and has plenty of space to create some fantastic toy photos. Each of the four exceptionally detailed panels can be used separately or formed together to create the 3D Building. Also included are four 3D A/C inserts to cool off the toy action, one loading dock, doors that open, and one removable roof.
PRODUCT FEATURES

When panels are connected flat 76" wide backdrop

Create the ultimate environment for your action figures

Connect multiple Building Pop-Ups for an even bigger setup

Includes 4 easy to assemble A/C inserts


All doors open including garage door

3" deep rooftop
WHAT'S IN THE BOX?
 

Four (4) 19" wide x 24" tall panels (Right out of box easy assembly)

 One (1) rooftop (Right out of box easy assembly)

 One (1) loading dock

 Four (4) A/C inserts (Right out of box easy assembly)
SCALE
1:12 - This product is to scale to all 6"-7" action figures.