---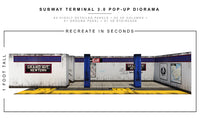 Extreme Sets - Subway Terminal 3.0 - 1/12 Scale Pop-Up Diorama
Extreme Sets
PRODUCT DESCRIPTION
The next stop on the action figure journey through the Multiverse stops off at the Subway terminal 3.0 Pop-Up Diorama. This Pop-Up is the one stop station on your journey through toy photography.
The 3.0 Terminal features four highly detailed panels to give your toy photo a great background while waiting on the train to arrive. The two 3D columns give your action figure a place to lean on while the train is running behind. The three ground panels give your figure the perfect platform to walk around on. And the 3D staircase serves as the perfect entry or exit way for your action figures to travel to and from as they continue on the journey.

PRODUCT FEATURES

Seamless connecting panels

Create the ultimate environment experience for your action figures

3D Staircase to add even more depth to each and every action figure photo
WHAT'S IN THE BOX?
 Four (4) 20" wide x 12" tall panels (Connect them as you wish)

 Two (2) 2" wide x 12" tall 3D columns

 Four (4) 12.5" x 19" ground panels

 One (1) 19" deep x 8" wide x 12" tall 3D staircase
SCALE
1:12 - This product is to scale to all 6"-7" action figures.